تاریخ : چهار شنبه 21 اسفند 1392
نویسنده : mohamadaref
Excavators PC8000
M. Mehrabi Expert
Heavy Machinery
Specifications
Diesel Drive دیزل درایو
The integrated engine oil and filter system combining the oil stabilizing systems, Reserve and Centinel, with Eliminator oil filter extends the oil change interval up to 4,000 hours based on oil analysis. The high capacity Mesabi engine radiators are cooled by a hydraulically driven fan for superior cooling efficiency.
Model 2 x Komatsu SDA16V160E-2 Tier 2
Type Water-cooled, 4-cycle, direct injection
Aspiration Turbocharged and aftercooled
Number of cylinders 16
Rated power @ 1800 rpm
SAE J1995 (Gross) 2 x 2,100 HP 2 x 1500 kW
Governor All-speed, electronic
Hydraulic System سیستم هیدرولیک
The power train consists of two main drives. Each of the two gearboxes drives four identical pumps which draw hydraulic oil from an unpressurized hydraulic tank. Open circuit hydraulics provide maximum cooling and filtering efficiency.
The four-circuit system features a load-limiting governor with oil delivery summation to the working circuits and incorporates pressure cut-off control. Hydropilot prioritizes hydraulic flow giving smooth hydraulic response, simple hydraulic system layout, and a reduced number of components. The hydraulic system includes large swing-out vertical air-to-oil hydraulic coolers with temperature regulated hydraulically driven fans.
Rated flow (total output) 2,190 gpm 8280 ltr/min
Relief valve setting 4,495 psi 310 bar
Swing flow rate 547 gpm 2070 ltr/min
High pressure in line filters
(one per pump located at the valve blocks) 200 µm
Full flow return line filters (7 elements)
at head of hydraulic tank 10 µm
Case drain/by-pass return line filters 3 microns
Travel and Brake System
حرکت وسیستم ترمز
Travel control 2 foot pedals
Gradeability Up to 50%
Maximum travel speed 1.5 mph 2.4 km/h
Service brake Hydraulic
Parking brake Wet multiple-disc brake
Swing System سیستم چرخش
Hydraulic motors and drives 3
Swing brake, service Hydraulic brake
Swing brake, parking Wet multiple-disc
Swing ring teeth External
Swing speed (maximum) 2.7 rpm
Undercarriage شاسی
Undercarriage consists of one center carbody and two track frames, each side attached by high torque bolts.
Center frame H-type
Track frame Steel box-section
Crawler Assembly مجمع خزنده
Track adjustment Automatic hydraulic type
Number of track shoes (each side) 49
Number of top rollers (each side) 3
Number of bottom rollers (each side) 8
Electrical System (Diesel Version)
سیستم برق ( نسخه دیزل)
System 24 V
Batteries (series/parallel) 8 x 12 V
Alternator 2 x 100 A
Standard working lights 14 Xenon lights
Standard service lights throughout platform
Electrical System (Electric Version)
سیستم برق (نسخه الکتریکی )
System 24 V
Batteries (series/parallel) 4 x 12 V
Standard working lights 14 Xenon lights
Standard service lights throughout platform
Electric Drive برقی
Type 2 x Squirrel-cage induction motors
Power output 2 x 1450 kW
Voltage 6,000 – 7,200 V*
Amperage (approximate) 2 x 155 A – 2 x 128 A
Frequency standard 60 Hz @ 1800 rpm
Frequency option 50 Hz @ 1500 rpm
Other voltages available on request.
Automatic Centralized Lubrication
متمرکز روانکاری اتوماتیک
Three hydraulically powered Lincoln single line automatic lubrication systems are provided as standard, complete with time and volume variable controls. The two central lubrications and open gear lubricant are supplied by identical pump assemblies from refillable containers which have a capacity of (3 x 300 liters) 3 x 80 U.S. gal. Replenishment of the containers is through the Wiggins connections on the service arm.
Service Capacities ظرفیت
Hydraulic oil tank 2,205 U.S. gal 8350 ltr
Hydraulic system 3,040 U.S. gal 11500 ltr
Fuel 3,672 U.S. gal 13900 ltr
Engine coolant 2 x 125 U.S. gal 2 x 475 ltr
Engine oil 2 x 77 U.S. gal .2 x 290 ltr
Reserve engine oil make up tank 2 x 279 U.S. gal 2 x 1056 ltr
Cab اطاق راننده
The large and comfortable cab is mounted on 18 viscous damping pads and sound insulated. The cab has an automatic climate control and is pressurized. The operator's seat is air suspended, electrically heated and has a lap seat belt and offers multiple adjustments. The trainer seat is also equipped with a lap seat belt. Low-effort joystick controls are electric over hydraulic with foot controls for front shovel clam, crawler and swing brake. Full instrumentation, KOMTRAX Plus and an AM/FM radio with MP3 ready CD player is fitted. The windshield wash wiper has two speeds and intermittent operation. Amenities include a refrigerator and storage cabinets. Powered and heated mirrors are adjusted from inside the cab. External metal sun blinds on the cab side window and internal roller blinds on all windows are standard. The right hand window is an emergency exit. All windows are tinted parsol green.
Cab engineering standards are
ISO 3449 Falling Objects Protection Structure (FOPS Level II)
ISO 6396 Noise in operator's cab is 78 dB(A)
ISO 2631-1 Whole body vibration and shock below 0.5 m/s²
ISO 5349-1 Hand-lever vibration lower 2.5 m/s²
ISO 10263-4 Heating and air conditioning second heater and air conditioner as option
Vehicle Monitoring System
سیستم مانیتورینگ خودرو
KOMTRAX Plus is designed for Komatsu mining equipment to provide real time information about the operating status of the machine via a colored display. The integrated digital storage provides a full event history and trend data, which can be downloaded by laptop and satellite modem, optional W-LAN.
FQuality کیفیت
Quality management ISO 9001
Environmental Management ISO 14001
High consistent quality through continuous investment in personnel, design and manufacturing systems and processes
Reliability and Durability
Robust structural design developed from field experience and finite element analysis
Undercarriage
Large diameter rollers, idlers and sprockets
Large surface area and extensive precision hardening reduce track wear
Hardened track link pin bores
Productivity
Powerful digging forces
Ease of bucket filling
Proven bucket and front shovel design
All cylinders mounted in the shadow of the attachment for protection
Buckets and wear packages to suit all material densities and properties
Advanced Hydraulics
Precise control
Comprehensive monitored filtration
Simple open circuit hydraulic system with high efficiency swing out oil coolers
Large Comfortable Cab
Gives full shift comfort
Komatsu low noise cab on multiple viscous mounts for reduced noise and vibration
Large volume cab with large scale front window
Comprehensive climate control with pressurized filtered air ventilation and air conditioning
High specification multi-adjustable air suspension seat
Well elevated operator position giving good all round view
Powerful Diesel Engine
Two Komatsu SDA16V160E-2 engines Tier 2 for North America
Rated (each) 1500 kW / 2100 HP at 1800 rpm
Electronic engine management
Time saving Engine Oil Management System; Centinel, Engine Reserve Oil Supply and Eliminator Oil Filter system
Easy Maintenance
Simple, common-sense design provides easy access to all major components
Generous access to all major service points from machinery house floor level
Enclosed, walk-in machinery house with partition wall separating engine from pump area
Automatic central lubrication
KOMTRAX Plus electronic monitoring system providing real time information about the operating status of the machine
Ground-level access to hydraulically powered swing down service arm with Wiggins connectionseatures
Charts جدول)) نمودارها
Dimensions ابعاد
Operating Weight (Approximate) عامل وزن (تقریبی)
Backhoe Attachment فایل پیوست بلدوزرها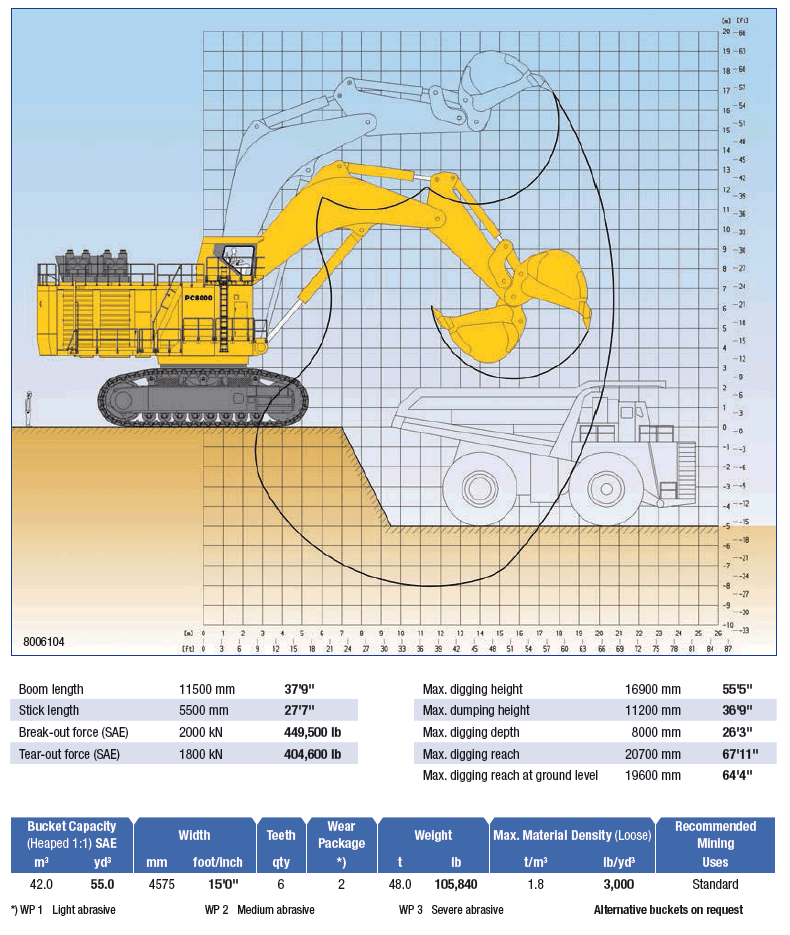 Standard Equipment
تجهیزات استاندارد
HYDRAULIC MINING SHOVEL
FRONT SHOVEL ATTACHMENT
8.15 m / 26'9" boom
5.75 m / 18'9" stick
Set of cylinders
42 m³ / 55 yd³ (SAE 2:1) shovel bucket WP3, with hammerless GET system
OR
BACKHOE ATTACHMENT
11.5 m / 37'9" boom
5.5 m / 18'0" stick
Set of cylinders
42 m³ / 55 yd³ (SAE 1:1) bucket WP2, with hammerless GET system
CRAWLER UNDERCARRIAGE
Heavy-duty shovel type undercarriage
2 heavy box-type track frames
8 bottom rollers and 3 top rollers each side
1500 mm / 59" cast steel track shoes
Hydraulic track adjustment and parking brake
SUPERSTRUCTURE
Main frame mounted over an externally toothed swing circle carries the drive module
2 x Komatsu SDA16V160E-2 diesel engines
Hydraulic components
Counterweight
LIGHTING
14 Xenon high performance working lights
Service lights throughout platform
OPERATOR CAB
Enclosed steel cab mounted on viscous pads
FOPS according ISO 3449 (Level II)
Air-conditioning
Full suspension operator seat
Trainer seat
Controls in operator comfort zone
KOMTRAX Plus (Monitoring System)
Joysticks and controls are electric over hydraulic
1 large parallel windshield washer wiper
AM-FM radio with MP3 ready CD player
Internal and external sun blinds
All windows tinted parsol green
UBRICATION AND SERVICE
LINCOLN central lubrication for basic machine and attachment
LINCOLN central lubrication for bucket and bucket stick assembly
LINCOLN automatic pinion lubrication system for swing circle teeth
WIGGINS service arm carrying fluid receiving connectors for filling of fuel, engine oil and coolant, hydraulic oil, grease, and the evacuation of coolant, hydraulic and engine oils
ACCESSORIES INCLUDED
Acoustic travel alarm
Hydraulically actuated ground access ladder
Electric air horn
Engine turbo and exhaust pipes cover
Engine oil management package (Centinel, Reserve & Eliminator systems)
Service transfer oil pump
Rails and steps on boom
Tie off points on boom
Optional Equipment
تجهیزات اختیاری وسفارشی
1900 mm / 75" track shoes
Additional lighting
Fire suppression system
Electric drive
Cable reel (Electric version)
Service crane (Electric version)
Low temperature package (-40 °F to -58 °F) incl. KIM hot start
technical data in the overview
اطلاعات فنی در بررسی اجمالی
The PC 8000 of Komatsu
Komatsu's hydraulic front shovel excavators are in the lead everywhere. The Japanese PC 8000 had been hit number one in the world chart for quite some time. The peculiarity of this giant is its electric undercarriage. The PC 8000 is moved by 6600-volt electric motors and not by hydraulic motors like its rivals. Two 3516 EUIS Caterpillar turbocharged aftercooled diesel engines drive the generator and the hydraulic system. Together, these two 16-cylinder aggregates deliver a massive 3,730 HP at 1,800 RPM. Despite the tremendous power, with its top speed of 2.2 kph no wonder this monster is not the vehicle for high speed car chases. Depending on track width ground pressure is about 2.5 bar. At full work speed the hydraulic pumps drive 8280 litres of oil through the cylinders with work pressure of 310 bar. In order to operate this giant there must be fuel and hydraulic oil, and lots of them. The fuel tank has an amazing capacity of 14,000 litres while the hydraulics tank is trying to keep up with its 11,500-litre capacity. The larger shovel bucket has the capacity of 44 cubic meters and weighs a decent 58.2 tons while its break-out force is 2,000 kN.
The most important technical data in the overview:
use-weight: 1,600,000 lb
performance: 4020 HP
bucket size: 50 yd³
باکت بیل (دماک) آمریکا یی با ظرفیت 26 متر مکعب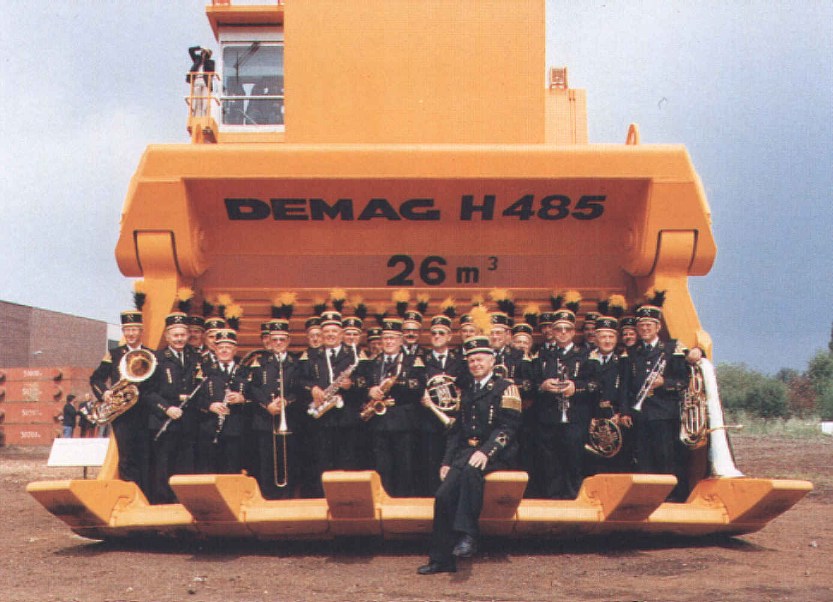 نظرات شما عزیزان: