تاریخ : شنبه 23 فروردين 1393
نویسنده : mohamadaref
Bulldozer D475A-5
ENGINE موتور
M. Mehrabi Expert
Heavy Machinery
Model Komatsu SAA12V140E-3
Type 4-cycle, water-cooled, direct injection
Aspiration Turbocharged, air-to-air aftercooled
Number of cylinders 12
Bore x stroke 5.51" x 6.50" 140 mm x 165 mm
Piston displacement 1,860 in³ 30.48 ltr
Flywheel horsepower:
SAE J1349 899 HP 671 kW
DIN6270 890 HP 644 kW
Hydraulic fan at maximum speed 860 HP 641 kW
Rated rpm 1900 rpm
Governor All-speed, electronic
Lubrication system:
Method Gear pump, force lubrication
Filter Full-flow and bypass combined
TORQFLOW Transmission انتقال تورک فلو
Komatsu TORQFLOW transmission consists of a water-cooled, 3-element, 1-stage, 1-phase torque converter with lockup clutch and a planetary gear, multiple-disc clutch transmission which is hydraulically-actuated and force-lubricated for optimum heat dissipation. Gearshift lock lever and neutral safety switch prevent accidental starts.
Gear Forward Reverse
1st 2.1 mph
3.3 km/h 2.6 mph
4.2 km/h
2nd 3.9 mph
6.2 km/h 5.0 mph
8.0 km/h
3rd 7.0 mph
11.2 km/h 8.7 mph
14.0 km/h
Final Drive فاینال درایو
Double-reduction final drive of spur and planetary gear sets to increase tractive effort and reduce gear tooth stresses for long final drive life. Segmented sprocket teeth are bolt-on for easy replacement.
Steering System سیستم راهبری
PCCS lever, joystick-controlled, wet multiple-disc steering clutches are spring-loaded and hydraulically released. Wet multiple-disc steering brakes are spring-actuated, hydraulically released, and require no adjustment. Steering clutches and brakes are interconnected for easy, responsive steering.
Minimum turning radius 15'1" 4.6 m
Undercarriage شاسی
Suspension Oscillating equalizer bar and pivot shaft
Track roller frame Cylindrical, high-tensile-strength steel construction
Rollers and idlers Lubricated track rollers
K-Bogie Undercarriage Lubricated track rollers are resiliently mounted to the track frame with a bogie suspension system whose oscillating motion is cushioned by rubber pads.
Extreme Service Track Shoes Lubricated tracks. Unique seals prevent entry of foreign abrasives into pin-to-bushing clearances to provide extended service life. Track tension is easily adjusted with grease gun.
Number of shoes (each side) 41
Grouser height:
Single grouser 4.1" 105 mm
Shoe width (standard) 28" 710 mm
Ground contact area 9,957 in² 64240 cm²
Ground pressure (Tractor) 18.5 psi 128 kPa
1.30 kg/cm²
Number of track rollers 8
Number of carrier rollers 2
Extreme service shoes 32" 810 mm
Additional weight 2,030 lb 920 kg
Ground contact area 11,360 in² 73290 cm²
Tractor ground pressure 16.4 psi 113 kPa
Extreme service shoes 36" 910 mm
Additional weight 4,030 lb 1830 kg
Ground contact area 12,762 in² 82340 cm²
Tractor ground pressure 14.8 psi 102 kPa
1.04 kg/cm²
Service Refill Capacities ظرفیت و قابلیت پرشدن مجدد - خدمات
Fuel tank 441 U.S. gal 1670 ltr
Coolant 72.6 U.S. gal 275 ltr
Engine 32.0 U.S. gal 121 ltr
Torque converter, transmission, bevel gear, and steering system 55.5 U.S. gal 210 ltr
Final drive (each side) 19.8 U.S. gal 75 ltr
Operating Weight عامل وزن
Tractor weight
Including rated capacity of lubricant, coolant, full fuel tank, operator, and standard equipment. 184,290 lb 83590 kg
Operating weight
Including strengthened Full-U tilt dozer, giant ripper, steel cab, ROPS, operator, standard equipment, rated capacity of lubricant, coolant, and full fuel tank. 238,960 lb 108390 kg
Ground pressure 24.0 psi 166 kPa
1.69 kg/cm²
Hydraulic System سیستم هیدرولیک
Closed-center load sensing system (CLSS) designed for precise and responsive control, and for efficient simultaneous operation.
Relief valve setting 3,980 psi 27.5 MPa
280 kg/cm²
Control valves (Spool control valves for Semi-U tilt dozer and Full-U tilt dozer):
Positions:
Blade lift Raise, hold, lower, and float
Blade tilt Right, hold, and left
Control valves (Spool control valves for variable digging angle multi-shank ripper and giant ripper.
Positions:
Ripper lift Raise, hold, and lower
Ripper tilt Increase, hold, and decrease
Hydraulic cylinders Double-acting, piston
Hydraulic cylinders
Number of cylinders Bore Bore
Blade lift / 2 7.09" 180 mm
Blade tilt / 1 9.84" 250 mm
Ripper lift / 2 8.86" 225 mm
Ripper tilt / 2 8.86" 225 mm
Hydraulic oil capacity (refill):
Semi-U tilt dozer 48 U.S. gal 180 ltr
U tilt dozer 48 U.S. gal 180 ltr
Ripper equipment (additional volume):
Giant ripper 34 U.S. gal 130 ltr
Multi-shank ripper 34 U.S. gal 130 ltr
Features ویژگی ها
Komatsu-integrated design for the best value, reliability, and versatility. Hydraulics, power train, frame, and all other major components are engineered by Komatsu. You get a machine whose components are designed to work together for higher production, greater reliability, and more versatility.
SAA12V140E-3 turbocharged aftercooled diesel engine provides a net output of 664 kW / 890 HP with excellent productivity. This machine is Tier 2 EPA, EU, and Japan emissions certified.
The Dual tilt dozer increases productivity while reducing operator effort.
Hydraulic driven engine cooling fan controlled automatically, reduces fuel consumption and operating noise levels.
Extra-low machine profile provides excellent machine balance and low center of gravity.
Preventative maintenance
Centralized Service Station
Enclosed Hydraulic Piping
Modular Power Train Design
Oil Pressure Checking Ports
Large blade capacities:
27.2 m³ / 35.6 yd³ (Semi-U dozer),
34.4 m³ / 45.0 yd³ (U dozer), and
76 m³ / 100 yd³ (Coal)
Automatic transmission with lockup torque converter increases speed and power to improve fuel consumption and productivity.
Track link with wedge ring reduces maintenance cost by making turning pins easier, with improved pin reuse.
Hexagonal designed cab includes:
Spacious interior
Comfortable ride with viscous cab damper mounting
Excellent visibility
High capacity air conditioning system
Palm Command Control System (PCCS) joystick controls
Pressurized cab
Multi-position adjustable armrest
Travel control console integrated with operator seat
KOMTRAX Plus provides efficient monitoring of machine conditions for maximum productivity.
Low noise
Operator noise: 70dB(A)
(Engine at Hi, cooling fan at 70%, and air conditioner OFF.)
Dynamic noise (outside): 110dB(A)
As per ISO 6395
Electronic Controlled Modulation Valve (ECMV) controlled steering clutch/brake system facilitates smooth and shockless steering operation.
Rear attachments (optional)
Variable giant ripper
Multi-shank ripper
Counterweight
K-Bogie Undercarriage System improves traction, component durability, and operator comfort.
Track shoe slip control system reduces operator fatigue and improves undercarriage life.
Low-drive, long-track, eight roller undercarriage ensures outstanding dozing ability and stability.
Charts نمودارها
Dimensions ابعاد

Dozer Equipment بلدوزر و تجهیزات

Travel Speed سرعت حرکت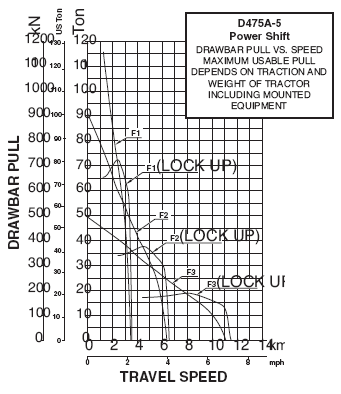 Standard Equipment تجهیزات استاندارد
Accessory sockets, 2 x 12V
Air conditioner with heater and defroster
Alternator, 90 ampere/24V
Back-up alarm
Batteries, 4 x 12 V, 200 Ah
Blower cooling fan
Decelerator pedal
Double door wiper
Dry-type air cleaner with dust evacuator and dust indicator
Dual tilt dozer
Eight-roller track frames
Engine oil level sensor
Engine prelubrication system
Final drive case wear guard
Heavy duty wiring harness
Hinged front mask
Hinged underguard with front pull hook
Hydraulics for ripper
Hydraulic track adjusters
K-Bogie Undercarriage System
KOMTRAX Plus
Lighting system (six front/two rear)
Light for ripper
Lockup torque converter
Lunch box holder
Mirror, rear view
Muffler with rain cap
PCCS palm lever steering control
Perforated front mask
Radiator reserve tank
Radio, AM/FM cassette
ROPS, Heavy Duty
Seat belt, 78 mm / 3"
Seat, air suspension, fabric, high back, fully adjustable
Segmented sprockets
Shoes, 710 mm / 28" extreme service, single-grouser
Starting motors, 2 x 7.5 kW/24V
Steel cab
Steps, heavy-duty and handles
Sun visor
TORQFLOW transmission
Track roller guards
Track shoe slip control system
Warning horn
Water separator
Wet steering clutches
ROPS
Weight . . . . . . . . . . . . . . . . . 940 kg / 2,070 lb
Roof dimensions:
Width . . . . . . . . . . . . . . . . . 1940 mm / 6'4"
Height from compartment floor . . . . . . . . . 1872 mm / 6'2"
Meets ISO 3471 and SAE J1040 APR88, ROPS standards
Steel cab:*
Weight . . . . . . . . . . . . . . . . . 455 kg / 1,000 lb
Dimensions:
Length . . . . . . . . . . . . . . . 1790 mm / 5'10"
Width . . . . . . . . . . . . . . . . . 1455 mm / 4'9"
Height from compartment floor to ceiling . . . . . . . . . . 1530 mm / 5'0"
Meets ISO 3449 FOPS standard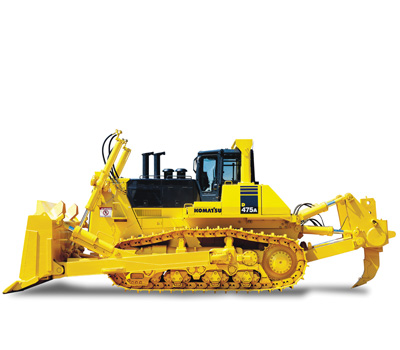 نظرات شما عزیزان: